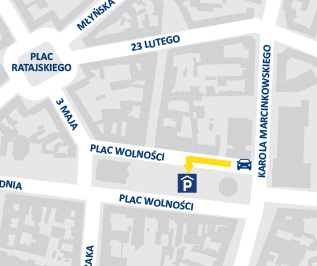 The 24-hour, underground car park is situated under Wolności Square
which is located several dozen metres to the west of the medieval part of Poznań. Entrance from Marcinkowski Avenue.
In the nearest vicinity there are Św. Marcin [St. Martin] and Ratajczak Street, Stary Rynek [Old Market], Muzeum Narodowe [National Museum], Biblioteka Raczyńskich [Raczyński Library], Teatr Polski [Polish Theatre], Zamek Cesarski [Imperial Castle] and many other attractions.

Entry and exit: 24 hours a day, seven days a week.

System of monitoring cameras for greater security of left vehicles and intercoms through which the experienced staff of the 24-hour National Operation Centre at any time will provide the driver with technical assistance and help him/her to find the way. The Interparking personnel in the customer service office at the entrance to the car park (level -1) provide assistance as well.

Payment by payment card or by cash in automatic payment machines and in the customer service office (at the entrance at the level -1, and up to the amount of PLN 50 at the exit columns from the car park by means of contactless card.